Dimplex Duoheat
Dimplex Duoheat is a lighter, more modern looking storage heater. Led lights with a simple plus and minus to control temperature make it easier to control. A radiant front panel enables an immediate boost from the 'on peak' electricity supply.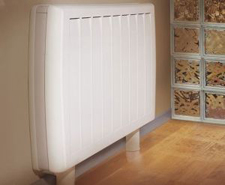 It is recognised that 21st century customers are more demanding in terms of their expectations of comfort levels controllability and energy efficiency. To meet the traditional criticism of storage heater performance in the critical evening period new approaches had to be considered to aid comfort and energy efficiency.
For professional people who are out at work during the day and only need heat in the morning and evening greater storage heater control is also demanded. In addition installers are still reluctant to justify the extra cost of the fan storage heater and require a product that will perform almost as well in terms of controllability and energy efficiency.
To this end Dimplex developed the Duoheat storage radiator. Taking advantage of the off peak tariffs the Duoheat provides adequate background heating from the casing but when comfort levels are required the use of a low wattage front panel heating element and electronic controller ensures these comfort levels are achieved as efficiently as possible.
The unique styling and easy to use controls make the Dimplex Duoheat the right product for 21st century users.

The fan storage heater is still preferred in terms of comfort and control but the Duoheat comes very close.