Storage Heater KW Guide
Storage heater KW rating (power input)
The storage heater KW rating is a unit of measurement used for the heaters power consumption.
The KW rating is also used to help gauge the right size storage heater for the right size right room. A handful of standard ratings are often given depending on the brand.
The higher a heater's KW, the faster the heater is using energy. Kilowatt (KW) is a measure of power (one KW being equal to 1000 watts).
Energy capacity (Charge acceptance)
The charge acceptance is how much energy is being consumed over a specific period of time. In a storage heaters case: over a 7 hour charging cycle over night - on the economy 7 tariff.
The charge acceptance figure derives from the KW rating x 7 hours. For example a 2.55kW rating storage heater has a charge acceptance of 17.85kWh.
Choosing the correct KW rating
It's important to understand what storage heater KW rating is ideal for your living space - in order to sustain a comfortable temperature. You need to consider where you need the most heat and if you want a storage heater that boosts heat in just a living room, bedroom, hallway or an entire flat or office.
Each storage heater will have its own demands. Charts A and B below illustrates the typical storage heater KW ratings required for different size living spaces.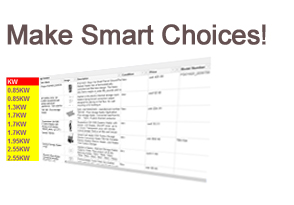 The output rate of stored heat is determined by the storage heater KW capacity, effective controls and insulation.
The storage heater capacity needed to meet day to day heating requirements should be considered at the design stage. Charts A and B provide guidance on storage heater KW ratings for a typical home.
A large size 3.4 kw storage heater can hold a maximum charge of 23.8 kw over a 7 hour charge period. Automatic storage heater systems are preferable because they offer the facility for automatically controlling the input charge - while accounting for room temperature and existing heat stored inside the heat blocks.
Storage heaters KW size selection guide
Charts A and B show a storage heater kw guide. The kw ratings in the tables relate to floor area. If you require just moderate background heat for your home or room and plan to use other heaters to top up as required, then use the top table. If however you plan to use a storage heater as the only heat source in the room and you require a comfortable temperature then use the bottom table.
Both tables are based on average ceiling heights of 2.4m, with no cavity wall insulation and an average external temperature of -2 degrees C and roof insulation of 100mm.
Chart A
Suggested storage heater 'KW rating' for background heat 18oC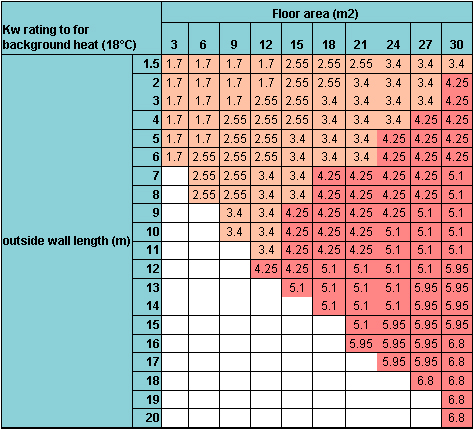 Chart B
Suggested storage heater 'KW rating' for comfort heat 21oC