Storage Heater Installation Instructions
Who can do the installation and how does the installation take place?
Remember! Storage heaters have to be fitted to special off peak circuits within a home and not plugged in to the nomal ac 3 pin power plug socket.
For safety and peace of mind storage heaters should only be wired and installed by a qualified electrician or installer in accordance with IEE wiring regulations.
Always remember heavy bricks will be delivered as well as the storage heater appliance. The courier may not always be prepared to lift heavy bricks up stairs into your property. Usually they are delivered on a palette.
Position in room
It's very important the heater is fixed securely to a wall and the feet are mounted on a level, firm surface.
To balance the rooms temperature storage heaters should be positioned below a window. See below diagram.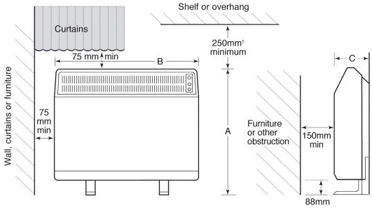 Usually recommended clearance distances are 250mm from any furniture or below any curtains and 100mm away from any walls.
Do not allow curtains to make contact with the heater.
How much to install storage heaters?
Check with your local electrician / electrical contractor. Some charge per storage heater installed and others charge per hour labour. Quotes can range from £50 per heater upwards.
Tools needed
For assembly the tools required are an electrical screwdriver usually with a 4mm wide blade, a pozidriver and an 8mm box spanner.