Running costs advice
Estimating running costs for any heating system is very difficult, as every situation is different. However there are independent companies who collate data on utilities and electric heating running costs. They provide a useful comparison of different heating systems and fuels in several average house types.
Storage heaters are generally more expensive as an initial investment compared to standard electric radiators, but they may help reduce heating bills by utilizing cheap rate electricity.
How much does it cost per day to run a medium 2.5kw storage heater for a small living room?
As a rough barometer assuming one medium size 2.55 KW input storage heater in the living room uses the full 18 KW charge for one night charge on the economy 7 meter. Assuming you pay 5p/ kWh on the cheap rate with your energy supplier, you would multiply 5p/kWh x 18 KW used to find out how much it costs to run = .90p / night. This would work out at about £27/ month or £324/ year to run. This is not taking into consideration room temperature profiles which would affect an even heat distribution throughout the whole day. You may be able to economize by compromising on room temperature while you are out.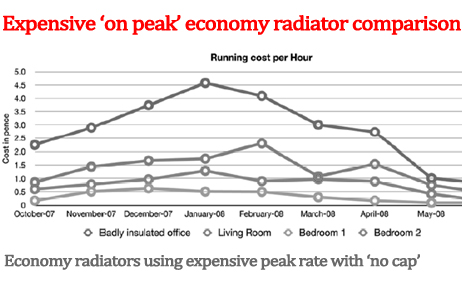 Does the economy 7 night tariff still work out cheaper despite a higher day rate?
If you have the same habits for utilities ask your energy supplier for your past year's reading of kWh usage in the day (units of electricity consumption to measure) and kWh usage in the night to compare the difference (yearly figures are most accurate as your usage fluctuates with seasons). Once you have the actual figures you can then find the cheapest deal in your local area by inputting both figures into an energy comparison site like uswitch.com and decide if economy 7 tariff is right for you and your lifestyle. Generally you would need to use more than 40% of your electricity at night to make Economy 7 electricity an economically viable option. Economy 7 electricity was introduced for night storage heaters originally so achieving this should not be difficult if they are already fitted.
Generally smaller companies market cheaper unit prices and deal plans than bigger companies in order to attract customers. The government and Ofgem.gov.uk is currently clamping down on the complexity of tariffs. In the UK there are currently around 20 different electricity suppliers with a hodgepodge of convoluted price plans.
Essentially there is the choice between a fixed tariff (for longer term agreements) and variable tariff where rates 'can' go up n down and you may have a cancellation fee. There may also be discounts available for setting up a direct debit.
Factors that affect room heat loss and thus storage heater energy consumption include:
How much insulation there is
Type of window/ double glazing/ French doors
Window size
Wall construction/ period/ number of outside walls
Floor construction
Levels the rooms are on/ ground floor etc...
Type of room
Dimensions of room
Desired room temperature
Outside temperature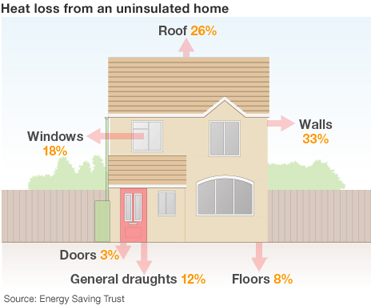 If the rooms are poorly insulated and don't have double glazing then your household heat loss will be higher and energy consumption will be higher than average to maintain a comfortable temperature. The winter months or cold spells of weather can dramatically increase the cost of your electricity bill.
Tips to economize and improve energy efficiency
Keeping doors closed helps retain heat and improve energy efficiency.
Don't let a draught in - air flow makes them discharge more quickly.
Make sure you choose the right size storage heater for each room.
Moderate heat intelligently in the rooms you don't use.