Economy 7 Electricity
'Economy 7 electricity' is commonly installed in areas around the UK where gas is not practical or cannot be supplied. High-rise flats in built up metropolitan areas and local authority housing developments for example have high usage of economy 7 electricity. It also solves gas accessibility issues in rural areas and allows for a cost effective alternative to on peak electricity.
People install economy 7 electricity primarily for economy 7 storage heaters although it's also practical for other household appliances which can be used during the off peak period.
With economy 7 electricity installed as an energy source there tends to be fewer engineer call outs, lower maintenance costs and generally less problems in the future. Compared to gas central heating which can require expensive pipe work especially if there will be alterations to the property.
Tariffs
The best way to compare both tariff's is to go on to the internet searching for 'electricity tariffs'. You should then be able to access all the tariffs promoted by electricity companies and compare current rates. There are genuine discounts for using off peak economy 7 electricity tariffs.
When you sign up for off peak economy 7 electricity the whole house goes on to the cheap rate so you can further benefit by using your washing machine, dishwasher or tumble dryer overnight.
Historically off peak users were charged a premium for the normal supply but this was only approx 0.5p more than the general domestic rate. This may not even be the case in today's competitive pricing structures. Clearly this argument is a bit of a red herring if the running costs using off peak heating are competitive.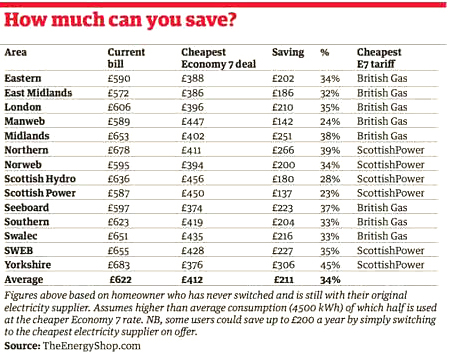 Economy 7 energy suppliers in UK (Your chosen energy supplier is responsible for administering, installing or upgrading a new economy 7 electricity meter).
British Gas 0800 048 0202
EDF Energy 0800 096 9000
E.ON 0845 059 9905
Scottish and Southern Energy: Southern Electric 0845 744 4555
Scottish and Southern Energy: Scottish Hydro 0845 300 2141
Scottish Southern Energy: SWALEC 0800 052 5252
Scottish and Southern Energy: Atlantic Electricity & Gas 0845 073 3030
Npower 0845 071 4525
Scottish Power 0845 273 4444