How do i replace a broken storage heater element?
Probaly best to have it done by a local electrician. However can be done if you are fairly good at DIY and are careful! Firstly the heater must be cold. Switch off the appliance and wait a couple of days for it to cool down.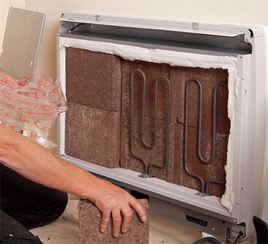 Carefully remove the heater outer casing, usually secured by pozidriv screws along bottom edge. Next remove the screws around the edges of the front panel of inner casing while supporting it with one hand. CAUTION! Do not damage the insulation attached to this panel and beware the bricks may be unstable. Set panel with insulation attached to one side and remove the front layer of brick, top row first.
The elements clearly visible are secured into ceramic terminal blocks located in the chassis. Using a straight screwdriver release the elements in front of the ceramic terminal blocks. The failed element will show as open circuit when checked with an electrical tester. Fit new elements as required and reassemble bricks and insulation with care.